The much anticipated Exmoor Flag was unveiled during a historic ceremony at the West Somerset Railway Station in Minehead on the 29th October 2014. The new Exmoor Flag rumbled down the track blazoned on steam locomotive 88 to much fanfare and flag waving.
The flag represents and celebrates the greater area of Exmoor, beyond the national park boundaries.  It is for everyone who loves living in and visiting this most uniquely beautiful corner of England.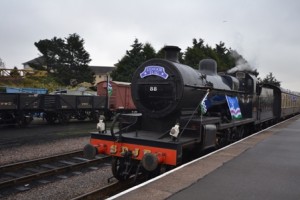 The winner of the competition to create the official flag for Exmoor is Jenny Stevens.  Jenny's rationale explains her thoughts behind her creation "The flag tells a story of Exmoor's varied terrain – sea meets river meets cliff path meets moorland meets forest meets wildlife."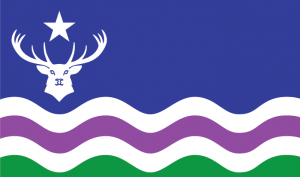 Jenny, who lives in London with her young family, first fell in love with Exmoor as a child on a school trip and the whole family has a passion for flags so it was an opportunity she couldn't miss.  Her bold and simple design clearly struck a chord with the public as it received 41% of the vote. 858 members of the public voted for their favourite flag design, with 446 votes cast online and 412 received in the post.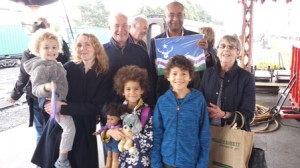 Jenny's flag design was one of 5 finalists' chosen by a panel which included Philip Tibbetts, Community Vexillologist at The Flag Institute, who expertly guided the judges through the shortlisting process.  261 designs were received from all over the world as far away as Australia and America, from community groups and schools to individuals as young as 2 and as old at 93.
Philip Tibbetts commented "It is very pleasing to see how the competition has been heartily backed by the community across the region. Through the dedication of the organisers to get the best quality designs, the corporate supporters that have given the flag a joyous launch today, to the multitude of people who had the enthusiasm and creativity to think up designs – which lead to a strong set of finalists and of course a strong registered flag. Exmoor can now represent its pride in the unique local culture and environment which in turn is part of the patchwork that makes up our national identity".
The Exmoor Flag has formally been registered by The Flag Institute as an official United Kingdom flag www.flaginstitute.org/wp/flags/exmoor/
As well as the honour of going down in history as being the designer of Exmoor's new flag, Johnny Kingdom the wildlife photographer, presented Jenny with the amazing prize of the very first Exmoor Flag, hand made in Exford by Robin Ashburner ex-President of the Flag Institute.  In addition Jenny received a beautiful wicker hamper especially made by Paul Tuck of Exmoor Baskets & Hurdles, overflowing with Exmoor produce, products and vouchers for shops, visitor attractions and restaurants, along with a day out with an Exmoor National Park Ranger and a year's subscription to the Exmoor Magazine.  The prizes were all kindly donated by local businesses keen to support and embrace Exmoor's new flag. www.exmoorflag.co.uk/competition-prizes/
And in recognition of their huge achievement of being selected from hundreds of entries, the 5 finalists were presented with a book of 'British Flags & Emblems', a case of Golden Ale donated by Exmoor Ales and their very own flag design beautifully reproduced by James Guscott of Active Signs (who has a love of flags having been a runner up in the Somerset flag competition last year).
Pictured with the design competition judges: Jamie Loudon (Flag A) with Toni Jones of the Exmoor Society, Martin Shoots (Flag B) with Julie Christian Exmoor Flag Project, Kathryn Roseveare (Flag C) with Robin Ashburner former President of the Flag Institute, Kevin Sandiford (Flag D) with Dan James, Exmoor National Park Sustainable Economy Manager and Jenny Stephens (Flag E) with Naomi Cudmore, Editor of the Exmoor Magazine.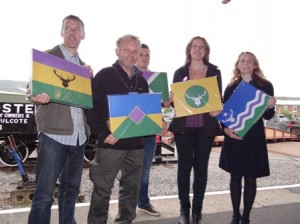 Johnny Kingdom also presented the Rural Deanery of Exmoor and 5 local Mayors, resplendent in their ceremonial regalia, with an Exmoor Flag for them to fly back in their own towns. Pictured: Sara Evans and Russell Perkins on behalf of Rev Stephen Stuckes, Rural Dean of Exmoor. Mayor of South Molton Cllr Stephen Lock and his wife; Mayor of Watchet Cllr Loretta Whetlor; Mayor of Ilfracombe George Squires and his wife; Deputy Mayor of Barnstaple Cllr Mrs Julie Hunt and Mayor of Minehead Cllr Les Smith.