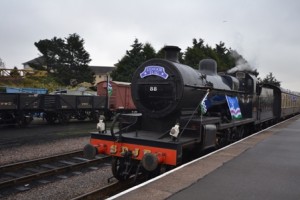 The Exmoor Flag was unveiled at a historic ceremony on the 29th of October 2014 at the West Somerset Railway's Minehead Station where the flag arrived blazoned on a majestic steam locomotive.  The launch of the Exmoor Flag coincided with the Exmoor National Park Authority's celebrations of its 60th anniversary.
The creation of a flag for Exmoor was the idea of four friends Ceri & Tony Keene and Edward & Julie Christian from the village of Brushford on the southern edge of Exmoor National Park. They felt that Exmoor needed its own emblem for people to express their pride in their community and to promote and celebrate Exmoor's rich and varied landscape across the globe. The friends set up The Exmoor Flag Project (EFP) to organise an open to all, free to enter competition to democratically design and select the winning flag.  The Exmoor Flag Project was financed by the EFP Team with the assistance of a small grant from The Exmoor National Park's Partnership Fund.
The competition was launched in June 2014 with a special flag assembly at Dulverton Middle School with an informative presentation by Exmoor local Robin Ashburner, former President of The Flag Institute.  The competition was widely promoted with posters across greater Exmoor, a social media campaign, regional and local press coverage and interviews on regional radio including BBC Radio Devon and Somerset, and even a mention by Steve Wright on BBC Radio 2.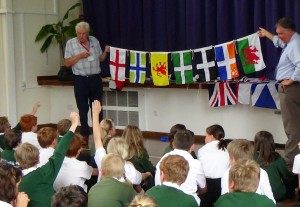 261 entries were received, all expressing the designer's unique view of Exmoor.   The youngest entrant was aged 2 and the oldest was 93 years old.  Entries came in from both individuals and groups including schools, retirement homes and art groups, and from all over the world from as far away as America and Australia.
The shortlisting judging panel of 8 was made up of well known Exmoor people and representatives from key organisations such as Exmoor National Park, The Exmoor Magazine, The Exmoor Society, the EFP team, Robin Ashburner and Johnny Kingdom and overseen by Philip Tibbetts, Community Vexillologist at The Flag Institute.  Five designs were selected and adapted to comply with the Flag Institute's guidelines.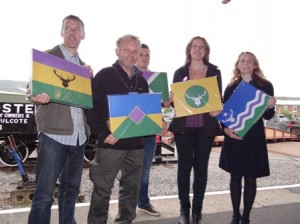 858 members of the public voted for their favourite design either electronically via the website or by post. The winning flag was created by Jenny Stevens who lives in London and first fell in love with Exmoor on a school trip.  Her design illustrates the varied landscape of Exmoor from its coast, footpaths, moorland, forests and the wildlife showcased by the iconic red deer stag.  The star symbolises Exmoor's prestigious International Dark Sky Reserve award.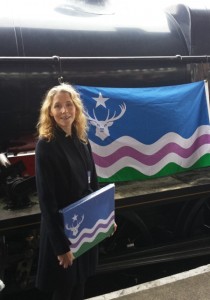 The Exmoor Flag is registered as an official United Kingdom flag by The Flag Institute and is free to fly and use the image by anyone wishing to celebrate their affiliation and love of this beautiful unique corner of Britain. Exmoor Flags and flag related gifts and products are available to purchase in selected retailers across the region and our online shop.