Jenny Stevens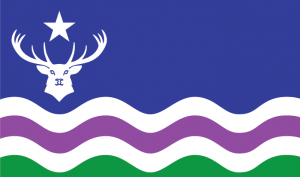 Finalist's rationale:
I tried to create a simple design using only a few colours so that the flag is easily recognisable from afar. The flag references key distinguishing characteristics of Exmoor whilst still being easy enough for a child to draw.  The flag tells the story of Exmoor's varied terrain – sea meets river meets cliff path meets moorland meets forest meets wildlife. Exmoor is a very special place and I hope my flag does it justice.
Judges' comments:
The judges selected your flag as it was clear and bold.  They enjoyed reading your story about how you first came to know and love Exmoor and they felt that this passion was reflected in your design.