Kathryn Roseveare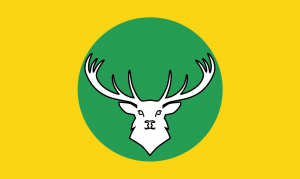 Finalist's rationale:
For my design I have kept it simple yet meaningful. Exmoor is well known for its deer, including all 3 main species of deer; Red deer, Roe deer and Fallow deer.
I used the colours green, blue, yellow and black for the outline because I thought they worked well together and they represented Exmoor to me.
Judges' comments:
Your design was selected by the judges as it represented Exmoor well and they could see its potential as a flag.  Johnny Kingdom particularly liked your picture and felt that it looked like the viewer was looking through a camera lens at the stag which was coming out into the foreground.