Jamie Loudon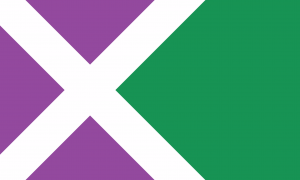 Finalist's rationale:
We have chosen to adopt the *Stag to represent the wildlife of Exmoor. It is already recognised as an iconic symbol for the area.  The 'X' device references the 'X' in Exmoor and we have opted for a simple colour palette to reflect Heather and Moorland. The simple graphic style will be easy to reproduce in any medium and can work at any size.
Judges' comments:
The judges chose your flag as they thought it was a clear and concise design that said Exmoor. Along with the quite obviously X for Exmoor, some of the panel also picked up on the letter E forming EX.  This is an ingenious way of having a word without it being physically written, something not permitted on a flag. The judges also liked your choice of colours representing the heather and the moorland.  You will notice that the colourways have been swapped around; this was because we felt the weight was better reversed. *In Jamie's original design there was a standing stag on the right hand side.  In flag design symbols are best placed centred or on nearest the flag pole on the left so that it is visible during flight and when the flag is limp. The decision was made to remove the stag as it couldn't be placed in either of these positions.